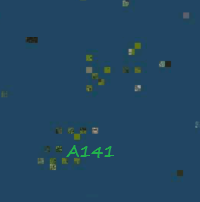 A141 is a Sim Cluster located at Coordinates 846-862/1034-1054, Grid Sector H10, Western Ocean, North to Uhre Continent and West to Caledon - Winterfel.
The sim cluster was mapped by SLGI team in winter 2013-2014. At that time, it was made of 26 sims.
Structure
Edit
A141 is divided into a Northern (GoldenBusinessArea - 13 sims) and a Southern (Wonderful Land - 12 sims) sim cluster. The sims are placed in random order. It is visible on the map because nearly nearly all these sims are green.
Geography
Edit
The green color comes from grass texture, found on nearly all parcels. Majority of sims are flat and green-colored. Hills or plateaus are rare, mountains are absent. There is a lot of land for sale.
Sim Examples
Edit
Wonderful Land 5
Magic Land
GoldenBusinessArea 6
Golden Business Area
See Also
Edit
Ad blocker interference detected!
Wikia is a free-to-use site that makes money from advertising. We have a modified experience for viewers using ad blockers

Wikia is not accessible if you've made further modifications. Remove the custom ad blocker rule(s) and the page will load as expected.