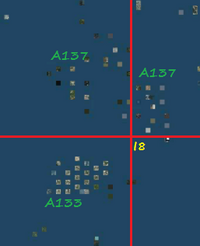 A137 is a Sim Cluster found at Coordinates 880-903/905-918, in Grid Sector H9 and Grid Sector I9, Western Ocean. This is South to Uhre Continent.
SLGI team identified A137 in autumn 2013 as a distinct grid structure. At that time, it was made of 20 sims and was very diffuse, but still was one of the most visible structures within the area.
Structure
Edit
In June 2015, it was made of 37 sims and was diffuse, but not as diffuse as in 2013. It can be divided into two lobes: a western and an eastern one. The sims are not following any geometric pattern. Since grid sector H9 is full of Unassociated Sims, this sim cluster is one of the most visible structure. This sim cluster was formed by chance and is not the work of an estate owner.
Geography
Edit
Since access is restricted in East lobe, we don't have enough data. In Western lobe, ground texture usually resembles grass. Most of land is flat, but there are a few hills and mountains. There is much Unused Land.
Land Status
Edit
There are many estates holding land in here. Shops are very frequent and so are parcels of land for sale.
Access in Eastern lobe is forbidden for visitors.
Sim Examples
Edit
Yadkin Valley
Thor
Pamlico Atoll
Eden
See Also
Edit
Ad blocker interference detected!
Wikia is a free-to-use site that makes money from advertising. We have a modified experience for viewers using ad blockers

Wikia is not accessible if you've made further modifications. Remove the custom ad blocker rule(s) and the page will load as expected.