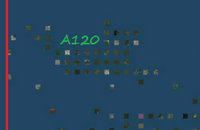 A120 is a Sim Cluster, with Coordinates 703-732/1043-1056, in Grid Sector G10, Western Ocean.
For a long time, this sim cluster was the most massive in its grid sector. However, it was eclipsed by the presence of Irish - Bonaire Continent. When this continent vanished, for a short time, A120 became the most important structure of the grid sector. Then, in 2015, from the ruins of Bonaire, a new, larger sim cluster formed and A120 was again the second largest structure in the area.
In 2014, it was approximated to have 45 sims. In July 2015, it had 47. This sim cluster shows an incredible stability of size and structure, compared with the dynamic and massive changes that took place in Irish - Bonaire.
Structure
Edit
It is a sim cluster with mathematical disposition, each sim is separated by one void position. It contains 47 sims. A120 has a comparable number of sims with the vanished continent.
Geography
Edit
As expected, each sim is different and not all sims share the same Geography. There is a problem, the fact that Land With Restricted Access is present. Our drone was ejected 3 times in 4 random teleports by entity orbs. Also, interesting is the fact that not all land is owned by the same estate (while in mathematic sims, there is a single estate).
Sim Examples
Edit
Little Chimera
Ukama
Ebonai
Timba West
See Also
Edit
Ad blocker interference detected!
Wikia is a free-to-use site that makes money from advertising. We have a modified experience for viewers using ad blockers

Wikia is not accessible if you've made further modifications. Remove the custom ad blocker rule(s) and the page will load as expected.