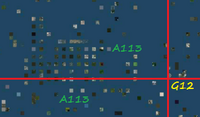 A113 is the temporary name of a Sim Cluster located in Grid Sector F12 and F13, inside North - West Ocean. Its Coordinates are 662-684/1298-1315. It is 100 sims North from Eden continent.
It was discovered by SLGI team in 2013 and since then it remained a good orientation spot in a grid area dominated by Unassociated Sims.
Structure
Edit
it has more then 50 sims. It is a sim cluster with mathematical disposition (squares), with a void sim between each two sims. The structure is not complete (it has holes). To North, it is a lot more diffuse.
Geography
Edit
Many sims are tropical beach - themed, with water, low altitude, sand and tropical vegetation. There are also other types of land, most common is grass texture. Many sims are different, with land covered with prims and buildings. In Fuzion sim, ground texture is latex. Altitude is usually low.
Land Status
Edit
There are multiple estate owners, but one estate has more sims. Land With Restricted Access was detected.
Sim Examples
Edit
Monverdun
Armageddon
Heaven Seven
Zephyr Island
See Also
Edit
Ad blocker interference detected!
Wikia is a free-to-use site that makes money from advertising. We have a modified experience for viewers using ad blockers

Wikia is not accessible if you've made further modifications. Remove the custom ad blocker rule(s) and the page will load as expected.