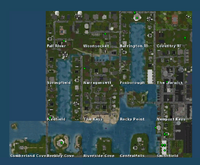 A106 is a Microcontinent with Coordinates 618-623/1042-1046, Grid Sector F10, Western Ocean.
A106 was discovered by SLGI team in late 2013. At that time, it was made of only 9 sims, forming a compact square. At that time, since it was winter, ground was covered with a layer of snow. Since then, the microcontinent has nearly doubled its size.
Structure
Edit
The microcontinent is formed of 17 sims, 16 of them forming a large square.
Geography
Edit
Almost all land is perfectly flat. There are some elevated parcels (not much). Land with some declivity is very rare. Ground texture is green and Geographic features are that of a large plain. Water is present, under the form of large channels. A network of roads give access to every sim.
There are a lot of houses, forming a large suburbia. Even if buildings don't look the same, it is clear that they share similar styles.
Sim Examples
Edit
Cumberland Cove
Narragansett
Foxborough
Coventry RI
See Also
Edit
Ad blocker interference detected!
Wikia is a free-to-use site that makes money from advertising. We have a modified experience for viewers using ad blockers

Wikia is not accessible if you've made further modifications. Remove the custom ad blocker rule(s) and the page will load as expected.