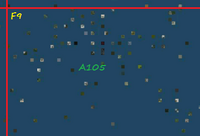 A105 is the transitory name of a Sim Cluster that was identified at Coordinates 605-663/963-999, in Grid Sector F9, Far West Ocean.
It was identified by SLGI team in late 2013, on the second survey. Since then, the sim cluster remained in the same place, suffering only minor changes.
Structure
Edit
It is composed of 70 sims and is diffuse. No mathematic distribution can be seen. To West or East, there is no visible separation between the sim cluster and Unassociated Sims, while in South, the border is very clear and visible.
Geography
Edit
There is a varitey of places. some of the sims are made to recreate a tropical beach paradise, while others are different: a plain with swamps, hills and a lot of residential area.
Land Status
Edit
There are multiple estates owning land in here. The biggest surprise is the presence of sims owned by Bonaire, who once owned the Irish - Bonaire continent (see Vanished Grid Structures for details).
There is land available for sale or for rent.
Sim Examples
Edit
Annamaria Montelongo
Bonaire41
Mournin Woods
Leeward Island
See Also
Edit
Ad blocker interference detected!
Wikia is a free-to-use site that makes money from advertising. We have a modified experience for viewers using ad blockers

Wikia is not accessible if you've made further modifications. Remove the custom ad blocker rule(s) and the page will load as expected.