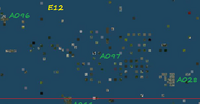 A097 is the temporary name given by the SLGI team to this Sim Cluster. It is placed in Grid Sector E12, at Coordinates 521-547/1206-1226, in North - West Ocean.
Since its discovery (autumn 2013), A097 remained almost the same. No major changes have been noted on grid map.
Structure
Edit
A097 is formed of two different structures. The left part is more diffuse (but the sims have a tendincy to group), while in the right part sims are placed in mathematical distribution, forming squares. It is composed of about 60 sims.
It looks like all is owned by al single estate owner, through multiple estates. Land With Restricted Access exists. There are sims that don't allow visitors to enter and also ban lines on specific parcels. Rules and permissions vary from a sim to another.
Geography
Edit
The sims composing the sim cluster are very different. From sci-fi designs to places that cannot be included into a category, the sim cluster is also full of stores. Ground texture and Altitude varies. Skyboxes exist in some places.
Sim Examples
Edit
Darkness
Rati dAlliez
Shabby Forge
Lucky Isle
See Also
Edit
List Of Microcontinents And Sim Clusters