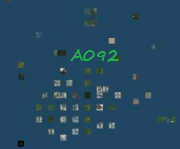 A092 is the temporary name of a Sim Cluster placed at Coordinates 565-581/1135-1146, Grid Sector E11, Far West Ocean.
A092 was discovered by SLGI team in 2013 and since then, it suffered some changes.
Structure
Edit
It is composed of roughly 40 sims. Part of them are placed in mathematic distribution and form squares. To East, 3 sims are linked together. To North, there are a few sims that might be considered both as part of the sim cluster or as Unassociated Sims.
Geography
Edit
Majority of these sims are beach-themed. Ground texture is white sand, vegetation is tropical and Water is present, both for decorative reasons and to separate parcels. The remaining sims are covered with grass and use mountains to separate land into parcels. These mountains are lower then 50 meters.
Land Status
Edit
There is a single estate owning land in the area and land is available for sale, Also, it is more a residential land.
Sim Examples
Edit
Topanga Canyon
Akela
Cape Jaffa
Reydiant
See Also
Edit
List Of Microcontinents And Sim Clusters
Ad blocker interference detected!
Wikia is a free-to-use site that makes money from advertising. We have a modified experience for viewers using ad blockers

Wikia is not accessible if you've made further modifications. Remove the custom ad blocker rule(s) and the page will load as expected.