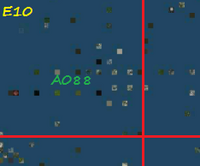 A088 is a Sim Cluster located at Coordinates 575-610/1006-1017, Grid Sector E10 and Grid Sector E11, Far West Ocean.
The sim cluster has slowly decreased in size. In June 2015, it has extended in Grid Sector F10.
Structure
Edit
It is composed of less then 20 sims. It is a sim cluster with mathematical disposition (squares). These sims offer a tropical beach paradise. Land has low altitudes, usually close to sea level. Hills are rare and some parcels are submerged. Vegetation is tropical and ground texture is sand. There are parcels with restricted access. There is a single estate in the area. A part of sims share common name DarkMyst.
Sim Examples
Edit
DarkMyst Bayou
Sweet Cherries
LM Sea
DarkMyst Hollow
See Also
Edit
Ad blocker interference detected!
Wikia is a free-to-use site that makes money from advertising. We have a modified experience for viewers using ad blockers

Wikia is not accessible if you've made further modifications. Remove the custom ad blocker rule(s) and the page will load as expected.