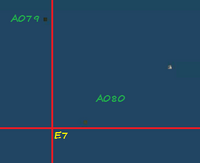 A080 is a Sim Group found at Coordinates 498-532/798-829, Grid SectorE8, Southern Ocean.
It was formed of 4 distant sims. Since its discovery (2014) and June 2015, two sims have vanished, while a 3rd one was created. One sim, LoveCats Island, is not listed as an isolated sim.
Structure
Edit
It is the most diffuse sim group, formed of only 2 sims spread on a surface higher then Sansara. Each one can be considered an Isolated Sim.
Sim Examples
Edit
Azuba - sand parcels separated by water
Angel In Heaven - very relaxing nature
LoveCats Island - recently listed as an isolated sim.
See Also
Edit
Ad blocker interference detected!
Wikia is a free-to-use site that makes money from advertising. We have a modified experience for viewers using ad blockers

Wikia is not accessible if you've made further modifications. Remove the custom ad blocker rule(s) and the page will load as expected.