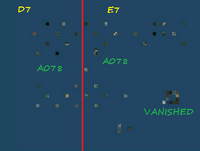 A078 is the temporary name of a Sim Cluster located at coordinates 485-531/742-774, Grid Sector D7 and Grid Sector E7, Southern Ocean.
Since its discovery in 2013, the sim cluster has remained in the same position and with a similar number of sims (increased from 42 to 44 in 2015). Structure has changed from time to time, with the addition and deletion of sims.
Structure
Edit
It is made of 44 sims. This is a very diffuse sim cluster, but with a slightly mathematical disposition (rhomboidal).
In spring 2013, a tiny continent, temporary named No Access was identified here. It soon vanished. Again, in January 2014, a Microcontinent was identified in nearly the same place. The survey made in May 2015 identified another microcontinent, but with a shape related to No Access, but much smaller. However, in May 31th, 2015, it was gone. For more details, see Vanished Grid Structures.
Geography
Edit
Geographic features vary. It looks like the estate owner allows people to terraform, there is a very elevated parcel (88 meters) surrounded by plain. Also vegetation and ground textures vary.
Land Status
Edit
Land is owned by a single estate.
However, the microcontinent detected in spring 2014 was controlled by American Cancer society.
Sim Examples
Edit
Maple Valley
Vahine Island
Chocolare Pie
Bejewelled
See Also
Edit
Ad blocker interference detected!
Wikia is a free-to-use site that makes money from advertising. We have a modified experience for viewers using ad blockers

Wikia is not accessible if you've made further modifications. Remove the custom ad blocker rule(s) and the page will load as expected.