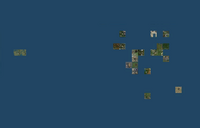 A053 is a Sim Cluster with a central Microcontinent, placed at Coordinates 1347-1358/1171-1182, inside Grid Sector M11, Eastern Ocean.
A053 was discovered by SLGI team in April 2013. At that time, it was made of 15 sims.
A053 is an important orientation spot, because it is nearly at the same longitude with Zindra to East and somehow close to LR Sims in West.
Structure
Edit
There is a central microcontinent, consisting of 6 sims. A smaller microcontinent can be seen to East, made of 4 sims. Then, other 9 sims are seen around both, like satellites orbiting a planet. Far to West, two distant sims can be also seen.
Total = 21 sims.
Geography
Edit
Majority of the sims are flat. They offer a plain for building, where you can find institutions, schools and roads to connect them (and decorative vegetation).
There are a few sims that host hills and rivers (like Healthinfo Island, with maximum Altitude of 46 meters).
Land Status
Edit
Land is owned by multiple estates. These are uiversities or institutions, so they are teen estates.
Sim Examples
Edit
Eduisland 5
Stanford University Libraries
HOPE 4 SATOBS
Pathways 3
See Also
Edit
Ad blocker interference detected!
Wikia is a free-to-use site that makes money from advertising. We have a modified experience for viewers using ad blockers

Wikia is not accessible if you've made further modifications. Remove the custom ad blocker rule(s) and the page will load as expected.